This article written by Gaeil Farrar appeared in the Williams Lake, British Columbia Tribune on January 21, 1999. Reprinted with permission. The man in the pictures is our "human" optometrist - Dr. John Stuart. The woman is Wylie's vet - Dr. Eileen Alberton.

Wylie Blake has been getting a little help recovering from cataract surgery from Lakecity optometrist, Dr. John Stuart. After her surgery, Wylie was given medication to reduce extra fluid build up in her eyes that might result from inflammation following the surgery.

If the eye fluid built up too much pressure in her eyes, Wylie could suffer permanent eye damage, says her veterinarian Eileen Alberton. To make sure this didn't happen, Wylie needed to have her eyes pressure tested. The first eye pressure test was done by Wylie's veterinary eye specialist in Coquitlam. But rather than have Wylie travel back there for the follow-up tests, John volunteered to do the job here.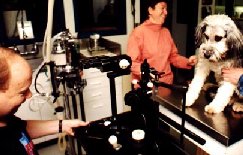 Wylie was also the first animal patient to use a piece of eye-testing equipment called a slit lamp, which Eileen had donated to her in December by a veterinary eye specialist. "He's someone who I call a lot regarding eye problems," says Eileen. The older piece of equipment is similar to that used to test human eyes with a bright light and magnification system.

Last week John first showed the veterinary staff how to use the equipment on each other, then on Wylie. "Wylie is such a good patient, she is just like a human," says John. "She is a little doll to work with."

Eileen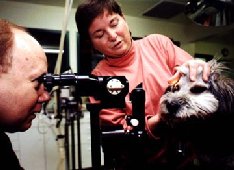 says the new slit lamp will be helpful in examining ulcers more carefully, and finding and removing foreign objects from the eyes of her clients. She says animals often get dust, chips of wood, grass, thorns and the like in their eyes. Sometimes dogs have extra eyelashes that rub on the eyeball causing ulcers. Using the equipment they can pluck out the extra eyelashes.

She says the slip lamp will also allow them to look very clearly at the iris and the back of the eye to determine if there are problems requiring the care of a veterinary eye specialist. The main difficulty is getting the animals to hold still for the eye tests, says Eileen. "Holding the dog still is the biggest problem for us," says Eileen.

Story contributed by Anne and Wylie. Read more about Wylie.


Return to the cataract page and read other experiences from owners whose pet had cataract surgery.

Contributed February 1999
Copyright. All rights reserved.
This site is for information purposes only. Please consult your veterinarian.