Hi! I have an 8yr old Bichon-Poo,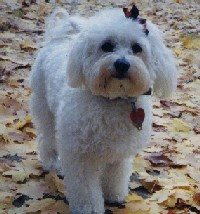 Tiffany, who was diagnosed with canine diabetes in the fall of 1998. She was kept by my vet for a week so that he could regulate her insulin. Her diabetes "disappeared'' for a few days during that week. I hear this is not common with dogs, though it is with cats. We give her Humulin insulin injections twice a day, making calculations from the day before combined with the reading on the glucostrip in her morning's urine. My husband has her trained to pee in a pan every morning. It has become part of the day's routine, just like the injections, and the meals for her twice a day.

Tiffany was a bit overweight when the diabetes was diagnosed, so my vet has her on Purina's Fit and Trim dry food plus a quarter of a can of Mighty dog twice a day. My husband was notorious for sharing a bit of each of his meals with her, but not anymore. So, she has lost two or three pounds, but this was a good thing. Sometimes, she does not want to eat when she should, but we can usually tempt her with cheese or turkey to get her going.

Her sugar levels continue to be erratic at times, but she looks wonderful, is very perky and playful. For myself, as Tiffany's owner, this has been a rather emotional 10 months. When I heard she had diabetes I felt devastated. I didn't think we'd be able to cope with the injections. And I was terribly worried that we'd lose her. This is a most beloved dog... But we're all fine. Yes, the diabetes will probably shorten her life a bit, but with the help of my wonderful vet and his staff, and websites like this, hopefully Tiffany will live a long, happy life. Thank you for letting me share.

Contributed by Sheila Fort

Contributed September 1999
Copyright. All rights reserved.
This site is for information purposes only. Please consult your veterinarian.