My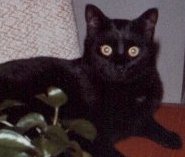 story will be a little different than the others you will find on this site. I want everyone to profit from my mistakes.

Magic went to Rainbow Bridge February 24, 1998. He was 19 years old. Almost a year later, it is still hard to believe he is gone.

Magic was a neutered male domestic short-haired cat...solid jet black. He was diagnosed in 1995.

It was most unfortunate for both Magic and myself that I didn't really start to learn about diabetes in companion animals until it was too late for me to help him as much as I could have, had I only known.

Now is when my story starts to be different from the others. You will learn more from our experience if I share my mistakes with you. Now that I have stopped blaming myself I am able to do this, I'll give you some non-technical opinions and ideas.

First I would like to say, you know your pet better than anyone, and you know when something is wrong. If you sense from just subtle observations that there appears to be a problem, but can't quite put your finger on it, insist your vet do lots of tests. As domesticated as our cats are they still have some genes from their wild ancestors. If one is sick or ailing, they will do all in their power to conceal it and not appear weak to other animals. I had never thought of that until my vet brought it to my attention.

Vets....you absolutely must have a vet you are comfortable with. It is important to both you and your pet. Keep in mind that a lot of vets are not accustomed to owners who want to be actively involved in the treatment of their pets. Everyone is not like those of you who will find your way to this web site in search of how to better care for your diabetic pet. A lot of people who are uneducated about pet diabetes will just give the injections every day and go back every few months for a curve. Simply because they don't know what questions to ask. That was my mistake. You can benefit from that.

Get on at least one good email list for diabetic pets, and read everything. I know, who has the time! There is a very good solution for that problem. You can set up some folders to store information. If the subject is somogyi and you never heard of that, set up a folder. When you need to know something about it, you have a whole folder full of info from the list.

When you join a list don't be intimidated by others who appear to have the answers to every question. Everyone on that list was in the same position as you at one time. They enjoy sharing their experiences and the fact that they are all animal lovers means they are all very special people.

Never make any changes in your pets care based on information from a list. Alway consult your vet. No two animals are alike.

Taking care of your diabetic pet will strengthen the already existing bond between you. The closer the bond, the more in tune they are to your emotions. Try not to let them see your fear or panic. Your pet, yes even cats, want to make you happy. If you are stressed they think it's their fault.

Always, let your pet know you love them. That has to be some help to them in dealing with their illness. Enjoy every single moment with them.......you will never have another who's quite the same.

Although I wasn't as educated in pet diabetes as I would liked to have been, the final years I had with Magic were good ones.

Yes, I may have been able to do more for him had I found this wealth of information available on the internet a year earlier, but I know that Magic knew I was doing everything I could to help him maintain the quality of life he deserved.

Contributed by Jacki


Contributed February 1999
Copyright. All rights reserved.
This site is for information purposes only. Please consult your veterinarian.