Return
to the
Quality
of Life
main
page
STORIES
Owner's descriptions of the health & lifestyle of their diabetic pets.
At six years of age our Brittany, "Dexter", became very ill with ketoacidosis and it seemed overnight he began this ordeal with excessive thirst and urination and began vomiting. We knew immediately something was very wrong. He was diagnosed very quickly. Dexter's insulin levels have been easy to regulate. He gets two injections daily of Humulin L (19 units). At first, we worried about giving him his insulin the same time everyday but we have learned, at least for Dexter, that an hour or two here and there does not affect him. He is blind now and can navigate the house and property easy (as long as there is nothing out of place). I honestly have to say our quality of life has probably changed more than his. Taking care of a diabetic dog is definitely a commitment. The measure of that commitment is as individual as we are. --Contributed by Pat, 2/2004
Portly is a 12-year old cat and was diagnosed in March 2002 with diabetes. He has recently started on insulin after oral medication failed to bring his diabetes under control. I have had Portly for four years he was a fat, black, scruffy stray who slept in the porch of a house I rented with a friend! I adopted him and he is a real character who is friendly and loving. Despite numerous attempts at diets he remained 'Portly' at 6.6kg! In March this year I noticed him starting to drink bowls full of water and took him to the vet. He was put on medication and a diet, this time I kept him inside for 7 weeks to make sure he lost some of the weight, however it went down too quickly to 4.75 kg in 12 weeks. I was very apprehensive about putting him on insulin but realized it was the only way. He is starting to get much better and has put some weight back on. The difficulty is letting him out which he loves, so I've given all the neighbors a letter explaining his illness and hopefully he will be able to retain most of his freedom. I have a job that takes me away every so often so making arrangements for him then is the biggest difficulty. At the moment, I have one good friend who is a nurse who helps out, and I've found a cattery that will take him. I hope he can continue to get better and live life to the fullest as he is much loved by me, friends, family, and all the nurses at the vets who have been a great support. I have still not managed home bg testing but hope to do it with the support of the vet. The most important thing is to have a good vet at these difficult time and mine has been brilliant.


My 14-year-old cat Jess and I live with 3 other rescued cats in Sussex, Southern England. Jess is a female domestic shorthair and her diabetes was diagnosed in 1998 when she was 9 years old. Jess' condition has remained pretty stable since diagnosis, thanks to an excellent vet and daily home BG testing (not as common in the UK as in the US). She gets mild conjunctivitis sometimes which takes a week or two to heal and the occasional bout of diarrhea (usually after eating something she's caught, fortunately a rare occurrence); she suffered a "seizure" last Christmas and another, milder one in March this year (2003)- no clear explanation for either.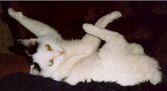 But she recovered from both remarkably well and is back to her normal self. I had to remove her (elastic) collar recently because she'd caught it on a branch while climbing! She is bright, affectionate and full of mischief (including being very loose-jointed, see pic of her doing "yoga" !), unfailingly co-operative for her "shots", any medication and blood tests (vet says she's the only cat he's ever been able to take a blood sample from single handed, she doesn't even need to be held), though she hates having sunblock put on her ears!

Her diabetes has taught me that changes in behavior - even small changes - can mean something is wrong. Her fortitude and lightheartedness with life has taught me some lessons, too. I love her dearly wouldn't be without her.

-- Contributed by Janet 9/2003

Ossie is an 11-year old, male, terrier and shepard mix who was diagnosed in August 2003. He was diagnosed with chronic pancreatitis, and diabetes. He went blind it seemed like right away. The vet that I first took him to gave him 1 to 2 weeks to live, and refused to treat his diabetes. I finally found a vet that would treat his diabetes and he is doing great. He is still in the stage of determining how much insulin to give him but as it stands now he is getting 9 units in the morning and 9 units in the evening. Also he gets 200 mg of chromium which helps reduce his bg and also I put a teaspoon of pancrezyne powder in his food in the morning and evening to help his pancreas work normally. He had also lost a lot of weight about 10 pounds all together, which he has gained back 3 pounds already and only been a few months. If I had listened to that first vet I wouldnít have my baby with me. I didnít believe that it was over and a lost cause. For 5 days I feed him water through an eye dropper to get fluids going through him since he was very dehydrated. I then began slowly feeding him baby food then his diet of Hills. He is a very happy dog except he gets a little frustrated with his blindness, but is adapting very well. I wrote this to let other pet owners know that you canít always believe your vets, if you feel that they are wrong or they arenít helping you the way you need help, find one that will. It took me 5 vets to go through until I found the right one. Contributed by Denise ZZBRATT@AOL.COM, 2/2004

We are still amazed that our husky/shephard mix, KC is alive. In mid-1999, when she was 9, we didn't know that she was sick until her BUN number was high enough to cause an upset stomach and started shutting her kidneys down. She was drinking a lot of water but we didn't connect it to diabetes. Her sugar was 660 and her kidneys were in failure mode. We decided to go with treatment even though the vet wasn't sure how long she would have, but we weren't ready to give up on her. She is now 14, her insulin is keeping her diabetes under control. We moved in 2001 and have found a wonderful vet who did an insulin curve and has changed KC insulin to twice a day. We also have found that Novolin works better for her than Humilin. Her major problem is her eyesight as she has cataracts. We have found that giving her walks 3x a day has kept her in shape and healthier. She had an ear infection and we had to watch her closely as she was on a steroid that affects sugar/insulin balance. She is a wonderful dog and we hope to keep her several more years. -- Contributed by Mary 9/2003

Updated February 2004
Copyright. All rights reserved.
This site is for information purposes only. Please consult your veterinarian.