THESE ARE EXAMPLES - THE BG NUMBERS ARE ARBITRARY AND JUST FOR ILLUSTRATING THE GENERAL PRINCIPLES OF HOW INSULIN AND FOOD EFFECT BG LEVELS
Figure 1. Sample bg curve with an insulin that gradually lowers the bg and peaks at about 6 hours. Without insulin (pink) the bg would be in the 250 range. After the insulin injection is given at hour 0, the insulin is absorbed and the bg is gradually reduced to more normal levels. The peak insulin activity occurs at about 6 hours, then wears off.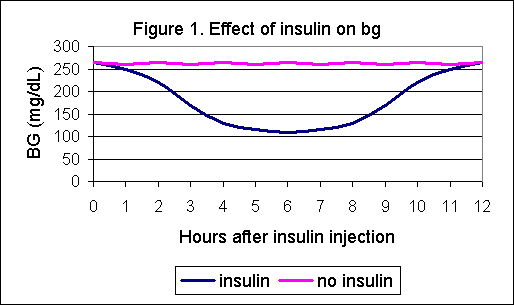 Figure 2. Sample bg curve where the insulin has a more rapid onset. The bg drops faster and earlier than in Figure 1. Here the peak insulin activity is at about 4 hours after the injection.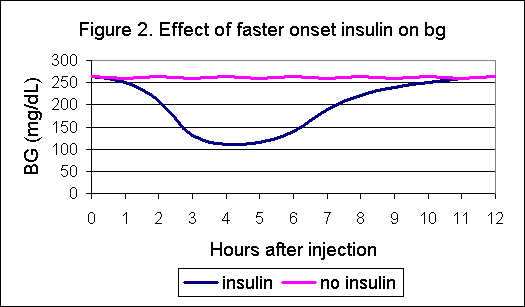 Figure 3. The effect of food on bg. If feeding occurred at about hour 2, the bg would rise, then fall. Different types of food and your pet's digestive system will cause the bg to rise and fall at a different rate.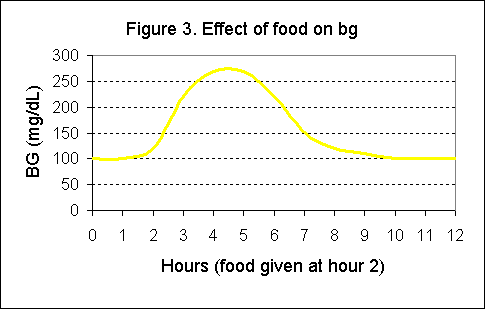 Figures 4 and 5 and 6 show how the insulin and food act together to effect the bg levels. The examples show how it might be very important for you to adjust your pet's feeding and insulin injection schedule so the insulin is acting when the food is eaten and digested.

Figure 4. The overall (green) effects of insulin and food on bg levels. The bg increase caused by the food (yellow) is counteracted by the bg lowering effect of the insulin (blue). resulting in an overall bg curve (green) that is in a good range for many hours.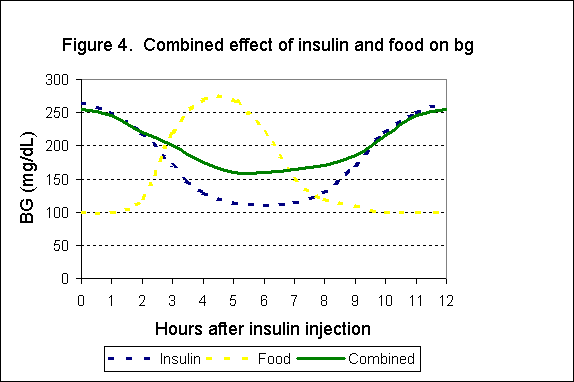 Figure 5. Overall (green) effects of insulin and food when the injection and feeding are not timed properly. In this example, the insulin (blue) peaked at about 4-5 hours. Since the food was given after that time, there was no insulin available to counteract the effects of the food. The overall result is a very uneven bg curve, with the effects of the food not being controlled by the insulin. * This problem is corrected by feeding earlier -- as shown in Figure 6.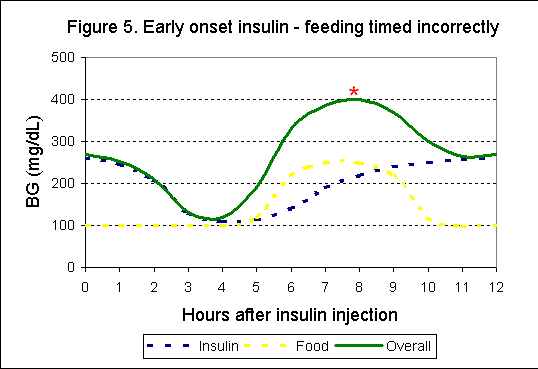 Figure 6. Overall (green) effects of insulin and food when the feeding is timed correctly. This example shows how the bgs are better controlled when the feeding is timed to correspond with the insulin peak time. Here, the bg rise caused by feeding occurred at about the same time as the peak insulin activity, and the two balance each other to give a more desirable bg curve. This proper timing of insulin and food prevented large rises in the bg associated with feeding.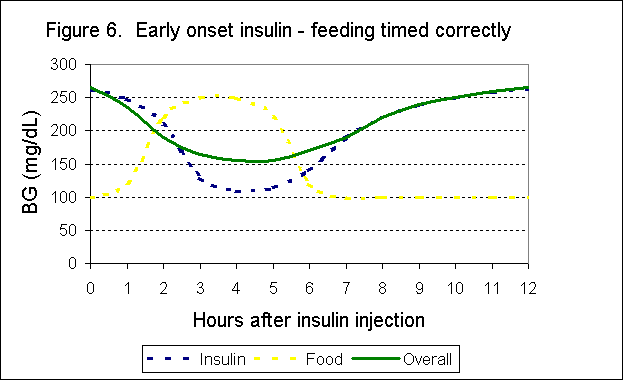 Updated October 2000
Copyright. All rights reserved.
This site is for information purposes only. Please consult your veterinarian.