Pictures and instructions by Ken, who is also a diabetic!
How to Withdraw Blood from the tail area for testing.
Daisy graciously posed for pictures!
Thank you Ken for taking time to take the pictures to help others!
It is people like you that make this site a valuable source of information!

Daisy models beforehand waiting for the test.

Ken shows the spot over the tail
area that has been shaved.

Ken shaves the hair from the area over the tail.
This needs to be done every 10 days in such a way
that it does not show until you lift the fur, and there
hey presto you have the site all ready and waiting.

Ken sticks the lancet in the flesh twice between his
finger and thumb and waits for the blood to emerge.

He waits and waits squeezing gently around the site,
and watch for the blood to merge into one bead.
The two sites must be very close nearly touching.

When you have enough blood in a bead offer
the strip and soak the strip in the blood.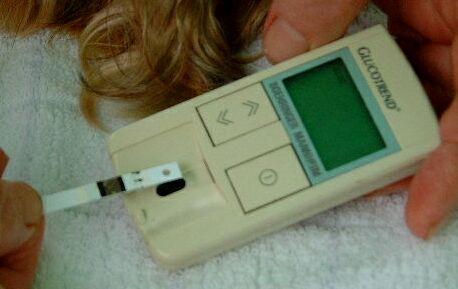 Ken inserts the strip and he uses the GlucoTrend glucose monitor and follows
the manufacturer's directions as you will on whatever monitor that you use.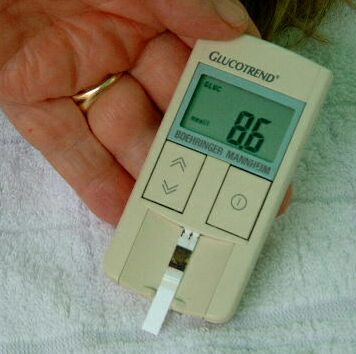 As you can see Daisy has a very good reading of 8.6
which converted is 156
Ken wipes the tail area after with Aloe Vera
he has put on a pad so the area is clean,
and Daisy likes Ken to put some aloe Vera on his finger
so she can lick it off, they say it is good for you.
Ken says "I stick to this area as she will not allow me to fool around in the mouth or ear areas. I should
say that I am diabetic to and need to stick myself four times a day (in my finger please!) I use the same type of meter and strips. I politely refuse the aloe Vera."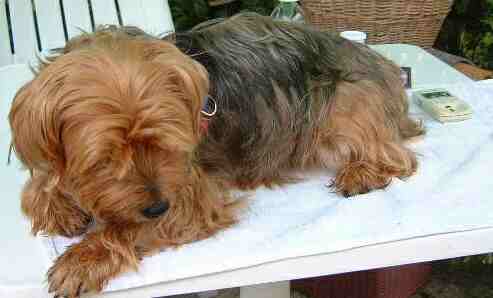 Daisy you were a wonderful model and had a great bg reading.
All the owners that want to try taking blood from the tail area now
have a step by step picture tutorial because of you and your Diabetic Dad Ken.
If you need an explanation for any of the steps feel free to email Ken
Email Ken for help!

Update from Ken's Daughter
Date: Mon, 12 Feb 2007
Daisy is now 12 years old and still doing fine.
She is almost blind now due to cataracts but is a very happy little dog and greatly loved by all the family!
My dad is diabetic and has had cataracts in both eyes removed. They like to do everything the same!
Daisy had been diabetic now for about 7 or 8 years now so he has a lot of information to share.
Kind regards Jane Harris (Ken's Daughter)
Email Ken for help with the instructions on this page
or just to tell him thanks for doing this!
His email address is payandgranhulbert@tiscali.co.UK
Hi,
I have some sad news to be added to the page about Daisy. Daisy passed away on the 31st March 2008.
She was 14 years old and had been diabetic for about 9 years.
She was blind towards the end of her life but she was very bright and cheerful and loved life.
Ken would still like to help other owners so please tell people they can still email him for advice with there dogs.
In fact he has 2 or 3 a week about the blood testing.
Ken (now well over 80)has a wealth of knowledge he can pass on , he is diabetic himself.
So please leave the page up, it is good to know she is helping other little dogs.
We are still devastated that we don't have Daisy around anymore
but we have such happy memories about the time we had with her.
She was such a big part of our lives and we will never forget her.
Kind regards Jane and Ken Hulbert.


Click Here to read Ken and Daisy's Story
More Blood Testing Picture Tutorials
Diabetes in Pets is Treatable!

**Disclaimer**
We are not veterinarians.
This information is provided to help you with caring
for your diabetic pet and is not meant to replace
your veterinarian's own advice.