female poodle
Birthday: October 22, 1991
dx January 1997
As of March 2002 Novolin L 5u am and 5u pm

Date: Wed, 23 Aug 2000

Joyce on Cataracts and Blindness
Hello to all, I just wanted to comment on this subject because I didn't have
the option of the cataract surgery with Tuffi because of her heart. She has
adjusted very well and so have we. Most people think she can still see. If
she has any vision left at all, it is so minimal that I really can't be
sure. She has free run in an enclosed back yard with a rabbit and a
turtle...In case no one knows, rabbits do not see very well during the day,
and occasionally Tuffi walks into the rabbit or visa versa, but neither of
them seem to get upset..Instead of getting upset, they just move over and go
on their merry way.

However, I spend a lot of time talking to Tuffi so that she will know where
I am at all times, because she does not like to be left outside or in a room
alone. If I am sitting in the yard with her and don't say anything for a
few minutes, she comes to the back door of the house and wants to come
inside....When she does that, I just speak to her and tell her that I am
still outside with her and she comes back to where I am sitting.

Also when I start to give her a bite of someting, I tell her first that I am
giving her something "good'' and she sticks her nose in the air to smell and
be sure that I am telling her the truth... If I just put a bite up to her
mouth without telling her first, she jumps as if she is scared because she
does not know what it is.

My husband insists that we encourage her to do things for herself instead of
helping her, so that she will not become dependent on us for everything... I
never re-arrange furniture so that she won't have a problem navigating
around the house.

After all that I have read about the possible complications of cataract
surgery, I am not absolutely sure that we would have it done on Tuffi even
if her heart was o.k. because she is almost nine years old and can do
almost anything that she did before the vision loss.

I encourage anyone who is thinking about the cataract surgery to ask
themselves " am I doing it for my pet/or because I feel sorry for them
because they can't see?" They don't feel sorry for themselves, only a little
frustrated at first because of the change, but most of them get past this
and move right on to do anything that they want to do.

I hope this helps someone/anyone who has a pet who is losing it's vision to
make the right decision about cataract surgery. And for those who for one
reason or another cannot have the surgery done, financial or otherwise, I
hope they will not fret about not being able to have it done.

Update Date: 11 Sep 2002

Tuffi is supposed to be a toy poodle,, but she grew to be 12 inches tall and I think that is the line
between a toy and a mini! Right now, she weighs 14 1/2 lbs! She will be 11 years old on
the 22nd of October! She was diagnosed with diabetes in January 1997, so I was figuring up
last night that it has been a little over five years and eight months since diagnosis, so she was
5 yrs and 3 months old at diagnosis! She is doing well on 4 1/2 units of Novolin L. She doesn't
have to see the eye vet again until December for a follow up on her eyes since she had the
ulcers patched in January. At first, he had me bringing her in every week, then every month,
and at the last visit he said that she was doing so much better that he thought it would be ok
to wait until December( but bring her in sooner if I see any kind of problem). Poor baby has had
diabetes almost half her life! Judy, I hope Queenie is doing better! I know that it is just a
day to day diagnosis, but it is also that way with Tuffi. Because of her enlarged heart I didn't have
the cataract surgery done, but when she got the ulcers it was a tough choice because
they almost perforated and the eye vet said I really didn't have any choice unless I wanted her
to lose at least one eye, and she would probably have had to be put under anesthesia for
that anyway....The new gas that he used is one of the newer gentler kinds and she was awake
immediately when they removed the gas mask from her face. We had it pretty tough
for the first few months, and I am still using drops and/ or ointment in her eyes 8 times a day.
The first eye vet had told me that I might someday be able to drop back to just using
the cyclosporine twice a day, but this new vet said that she is doing so good with the treatment
that I am giving her,he doesn't want to change a thing. He said that it is very rare that an owner
will follow instructions as closely as I have and that is why Tuffi is doing so well!
That made me feel really good!!

My little red poodle has faded to a not so red any more, but we love her just the same.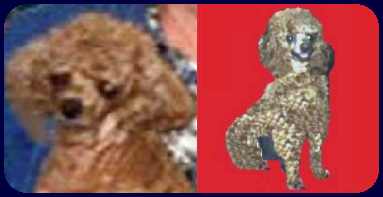 Tuffi Feb. 2000 Tuffi at 16 months Feb 1993
Check Out The Four Musketeers!
My love to both you moms and your furbabies!
Joyce and Tuffi