Hilde's Recipes
and this Susan is also a nurse with a medical background
Susan Hudson RN, MSN, CCRN
Read Hilde's Story - She was diabetic for seven years - Click Here
Hilde's Favorite Recipes
24lb Terri-Poo on 13units NPH every morning
Years on insulin = 7
**Note: it is important to avoid the following preservatives: MSG, BHA, BHT. MSG stimulates the pancreas to produce insulin in non-insulin dependent diabetics, and stresses the pancreas even further with those diabetics that are insulin dependent. BHA & BHT are degraded by the liver and excreted by the kidneys, extra stresses that diabetics can do without !
Boiled Dinner
3 lbs. ground meat (beef, lean beef heart, chicken, turkey, deer, or lamb)
3 cups cooked brown rice (don't use processed rice such as minute rice – lacks necessary starches and minerals)
3 cups frozen mixed veggies (can also use stir fry veggies – both available in large bags at Sam's Club, Gordon Foods, and most bulk food sections)
1.5 teaspoon salt
Boil ground meat in large pot until done. Add frozen veggies, and salt. When veggies are cooked, remove pot from heat. Drain and rinse in large colander using warm water. Mix in rice. Place in quart size freezer bags and place in freezer. Yield = 9 cups (9 – 18 meals, depending on portion size).

Beans' N Rice
2 cups cooked Red Kidney Beans (roughly 2 cans – any brand low in preservatives)
For variety, mix and match any of the following: pintos, black, navy, or lentils.
3 cups cooked brown rice (don't use processed rice – lacks starch and minerals)
1 cup cooked carrots (about 1 can – no preservatives ! – in Michigan, Meijer brands have
little to no preservatives added)
1 cup creamy cottage cheese (can substitute lowfat cottage cheese or tofu if dog doesn't
like cottage cheese)
1 small clove garlic - crushed (optional)
1 teaspoon Worcestershire sauce (any brand without MSG, BHA, BHT) OR 1 teaspoon
Tamari soy sauce (preservative free)
Rinse beans and then warm in pot of fresh water. Rinse and warm in fresh water once more (helps cut down on DDF's – deadly dog farts). Drain and add rest of ingredients. Mix thoroughly. Place into quart size freezer bags and refrigerate. Yield = 7 cups (7 – 14 meals depending on portion sizes). I didn't freeze this particular recipe because of the cottage cheese. I did mix this with other meals for more variety, using the ½ to ½ portion technique.

One to One Goulash
1 lb ground meat (any variety– beef, chicken, turkey, deer, etc.)
1 lb elbow macaroni (watch preservatives)
1 16oz can stewed tomatoes (chunked up and watch preservatives)
1 16oz can green beans – optional (any brand with just water and salt – no preservatives)
Boil meat in water until done. Drain and rinse in colander. Add enough water back to meat to cook macaroni. Drain and rinse again once macaroni is cooked. Mix in tomatoes, cover and let stand until tomatoes are warmed. Place in quart freezer baggies and place in freezer. Yield = about 2 bags, 3 if green beans added. This is a nice recipe for making large batches.

Meatloaf
1- 1/2 lbs. lean ground meat (beef, turkey, beef heart, chicken, lamb, deer, etc)
1-1/2 cups frozen mixed veggies
1 cup uncooked oats (quick or old fashioned – don't use instant, they are high in sugar)
1/2 cup shredded carrots
1 egg slightly beaten (or 2 egg whites)
1/3 cup skim milk
1-1/2 teaspoons Italian seasoning (preservative free)
1/2 teaspoon salt
Heat oven to 350°. Using a large bowl, mix all ingredients until moist enough to make into a loaf. Put mixture into 9x5 inch loaf pan and bake in oven until done (45 – 60 minutes). Drain and let cool for 5 minutes before slicing. Cut into even portions (about 8 slices), and then cut into even portions again. Yield = 8 - 16 servings, depending on portion size fed. Wrap individual portions in wax paper, place in freezer baggies and freeze

---

Ann & Cookie...& Claire Recipes
Hi Judy and Queenie!
Thank you so much for all the wonderful information I have learned from
the Muffin site! It has helped tremendously to learn about Cookie's diabetes
and what others are doing for their diabetic dogs.
How nice to find out that, unwittingly, I am doing SOMETHING right for
Cookie's homemade meals...brown Basmati rice. It is available locally, in
North Carolina, in many grocery stores...Texmati (brand name) long grain
American Basmati rice and it has no additives. There is also a toll-free #
800-232-RICE.
There was a request for recipes recently, so here is Cookie's:
2 cups cooked brown Basmati rice
2 cups cooked old-fashioned oatmeal, no additives
4 cups pureed canned, no additives, vegetables...Cookie likes carrots and
green beans best.
4 cups defatted, boiled chicken breast, finely ground in food processor
All ingredients are then mixed with a heavy-duty electric stand mixer.
This recipe makes plenty for Cookie, an 8 pound Yorkie...about a week's
worth. I freeze all that won't be used right away. Our other dog, Claire, a
German Wirehair pointer, also has to have a little of Cookie's food mixed
with hers...she feels neglected otherwise!
Cookie gets vitamin supplements and digestive enzymes (ProZyme) with her
meals. Yep, Claire gets those too.

"Of course, each of these three types of rice may be brown or white.
Brown
rice has a lower glycemic index than white rice, everything else being
equal. Therefore brown long-grain rice -- or if you can find it -- brown
Basmati rice -- will probably be your best best for a rice with a lower
glycemic index. White Basmati rice had a glycemic index of 83 in one study.
Brown Basmati rice can be expected to have a somewhat lower index, but we
don't know precisely what it is, because the studies haven't been done yet."

---

What Judy is feeding her diabetic pet Flip
Hi Judy:

I am going to write up some cautions and some of Flip's meals so that those that are interested can use them as a guide.

Supplements are something I want to cover. A chronically ill dogs has greater needs than the healthy dog does. A healthy dog's immune system would be able to handle many challenges; a chronically ill dog doesn't have the
extra resources to do this.

Flip is nine plus years and has been diabetic since age three. He also has Hyperlipidemia, Hypothyroidism, and occasional bouts of Pancreatitis. He had cataract surgery before age 4, and has a couple of UTI's each year. He weighs 22.5 pounds. He now gets 4 units bid of Humulin N. Been on the N the whole time.

His daily supplements are as follows:

Heaping half teaspoon of Bertes Blend. Twice daily. (source, B-naturals.com)
75 mg. B Complex, bid
200 IU Vit. E, bid
1 capful of Organic Apple Cider Vinegar (from HFS) once a day
Cranberry capsule daily--high potency
Morning he gets 100mg. of Niacin (for the Hyperlipidemia)
Morning he gets 60mg. Bilberry (for eyes)

Flip gets no grains. His carbohydrates come from vegetables. Grains metabolize to sugar very quickly and can cause a sudden rise in BG's. The vegetables are digested more slowly and contain valuable fiber and some
vitamins and minerals.

This is not to say, for a treat he may have a reduced fat Trisket or cracker. Mostly, his snacks will be a small bite of raw chicken breast, deskinned or a bite of canned Mackerel and a couple of tablespoons of veggies. When he is on anti-biotics one of his snacks will be live yogurt with extra probiotic powder mixed in to replace the healthy gut flora that is killed by the antibiotics.

I weigh his meat serving. He gets 6 ozs of meat. Whether that be canned Mackerel, Salmon, Xtra lean ground beef, chicken gizzards, breast carcass, chicken wing, skinned necks, venison, water pac tuna (rarely), beef heart, and kidney. He gets very little liver as this doesn't seem to agree with him. I make up for the liver with B vitamins.

Vegetables are as follows and he gets about 3/4 cup per meail. All will be NO Salt which are available in the grocery (you just have to read your labels) You can use a juicer and pulp fresh veggies; you have to do this to
break down the cellulose so that they can be digested in a raw state. You can also buy fresh frozen and thaw to room temperature or heat a bit and allow to cool. Freezing or cooking breaks down veggies to make them
digestible. You do not have to cook them to death.

Turnips with roots or without
Collards
Mustard
Mixed greens
Green beans
Carrots--occasionally
Sweet potato--one a blue moon <BG>
broccoli
cauliflower
cabbage
sguash/zuchinni

NO corn, peas, tomatoes, eggplant, onions, bell pepper, beans (lima, pinto,etc)

He does get dairy products: Cottage cheese and live plain yogurt--mostly as snacks

About once a week he will get a whole egg with crunched up shell included.
This would be added to 4 ozs. of beef or chicken breast meat.

If Flip did not have the Hyperlipidemia I would include Cold Pressed Flax Seed Oil or Salmon oil. Because of his super high trygylcerides, I have to leave off the oil and any excess fat.

I gave him an attack of Pancreatitis leaving the skin on chicken necks before I knew NOT to do this. If you lightly cook the meat, remember you CANNOT feed cooked bones, you can remove all fat by refrigerating and removing the jelled fat.

We have fruit trees in our yard; I try to monitor how much he gets. Peaches, Pears, Persimmons, and figs. A little fresh fruit seems to be okay. I like for him to get it on a full stomach and not by itself. He also gets a bite
or two of cantaloupe or honey dew or banana. Not much, but some fresh fruit works for him.

Judy and Flip (who is glad to share his good stuff)
Judy and Flips email address is JRivrvue@aol.com

---

Some suggestions from Edward Murray on diets in diabetic dogs
I have two dogs also and know well the problem of feeding them differently. The solution I worked out with a diabetes specialist has them both on the same diet and it is not W/D. Here are a few points she has made in terms of my dog's food to mention to your vet, but also remember that he/she works for you, not the other way around!

1. W/D is not an "ideal" food for a diabetic dog. In fact, it was developed at University of California Davis for the specific purpose of fattening up diabetic cats who had significant weight loss. Your vet can verify this with Hills.
2. As a general rule, dry food is better for a diabetic dog than wet because it is absorbed more slowly.
3. There are vast differences in the formulation and content of wet and dry foods. They are almost entirely different foods nutritionally. All your vet needs to do is look at the labeling for W/D wet and dry to see the differences.
4. Although it isn't the cheapest food on the market, my veterinary diabetes specialist feels that Hills Science Diet Light has a better mix of fat, fiber, carbohydrates and proteins for a diabetic dog than W/D. This is what I feed both my dogs. I mix it one-third wet to two-thirds dry so I can get them both to eat it all up and have better control over which dog eats what.
5. As far as treats, our diabetes specialist has recommended virtually unlimited quantities of the following: canned pumpkin (pure fiber and a little water); baby carrots which are 3 calories each; Quaker Oats Unsalted Rice Cakes which are 35 calories each--I've noticed that many other brands that have all kinds of wonderful ingredients tend to be quite high in calories; broccoli and other raw green vegetables which are again, high fiber and generally very low in calories. Most commercial dog biscuits are quite high in fat and calories, even ones such as the Science Diet Light biscuits so they are verboten around here.
6. As others have suggested and perhaps the point your vet was trying to make, it is very important that you feed your diabetic consistently in terms of what and when she eats, but there is no rule anywhere that says you can't prepare your own food.

Your can do a little research and use the Science Diet Light or even W/D as a guideline and come up with your own food that matches the calories, fat, protein, fiber and carbohydrates. The advantage of the commercial products is that someone else does all the calculations and manufactures the food so that it is generally consistent, but there is absolutely no reason you can't feed YOUR dog what you want to feed her so long as you control what and when
she is eating it and it generally matches these commercial products in nutrition. There are many issues in food in terms of whether a carbohydrate is "complex" or "simple," but these are for the most part, not life threatening issues and looking at the ingredients on commercial dog food. In human diabetes research circles right now, there is a raging debate over whether diabetics are better off with a high protein, low carbohydrate diet.
There is NO single correct diet, especially not W/D.

Edward Murray on feeding fruits

In answer to a question about fruit, I think specifically grapes, I cavalierly stated that all that mattered was calories. Afterwards,that didn't seem right so I started digging.

In some cases, sugar content and calories are directly related.

In other cases, this is not the case. A high sugar content will have a direct impact on blood glucose levels while a higher number of calories from fiber, fat, starch and organic acids which contribute to the calories will not impact BG levels as severely because it takes the body longer to digest than most sugars which are absorbed rapidly.

Looking specifically at grapes, a 100 gram portion contains 16.4 grams of sugar and 67 kilocalories. By contrast, 100g of avocado (yes, it is technically a fruit) has only 0.9 grams of sugar, but 177 calories from both the fiber and fat.

In terms of overall diet, you have to add the calories, but the data here indicates that an avocado is probably a better choice for a diabetic than a comparable amount of grapes in terms of impact on blood glucose with the former likely to cause a spike and the latter to raise the BG more slowly.

Of course, the occasional grape given as a treat is not the same as eating 100 grams of avocado in one sitting. (I'll have to see how many kilograms of grapes my neighbor has so conveniently grown on the fence which my little Anna is eyeing and checking to see if they are ripe daily now because the second they ripen, they are hers unless the birds beat her to the punch.

One thing that stands out looking at the data is that while a a raw fig at 6.9 grams of sugar looks like a good choice for a diabetic pet with less than half the sugar of a grape, 100 grams of dried fig has roughly 10 times as much sugar. This ratio seems to hold for most dried fruits, including raisins.

While not directly related to fruits in most cases, there are difference between cooked and raw food in terms of sugar concentration (usually relatively minor) and the rate at which it is digested and hence absorbed.
Cooking amounts to pre-digesting, breaking the food down before we eat it.
Separate from the issue of fruits, I noted that a number of home cooking recipes for dogs call for cottage cheese. While it seems completely counterintuitive to me, 4% fat creamy cottage cheese only has .6 grams of sugar compared with 3.2 grams for low fat cottage cheese. So while the total calories of the creamy cottage cheese are higher, the sugar content is lower and that makes it a better choice for a diabetic.
Information is available from the USDA Nutriental Data Laboratory at:

http://www.nal.usda.gov/fnic/foodcomp/Data/

Edward Murray on Yams, Brown Rice, Corn , Barley and Potatoes

| | | | | | | |
| --- | --- | --- | --- | --- | --- | --- |
| | | Yam | Brown Rice | Corn | Barley | Potato |
| Water | g | 1.00 | 1.04 | 0.99 | 0.98 | 1.08 |
| Energy | kcal | 1.00 | 0.96 | 0.93 | 1.06 | 0.81 |
| Energy | kj | 1.00 | 0.96 | 0.93 | 1.06 | 0.81 |
| Protein | g | 1.00 | 1.73 | 2.23 | 1.52 | 1.41 |
| Total Lipid (fat) | g | 1.00 | 6.44 | 9.16 | 3.15 | 1.07 |
| Ash | g | 1.00 | 0.10 | 1.32 | 0.47 | 1.59 |
| Carbohydrate | g | 1.00 | 0.83 | 0.91 | 1.02 | 0.76 |
| Fiber | g | 1.00 | 0.46 | 0.72 | 0.97 | 0.54 |
This might be useful to the whole list.
What I did was "normalize" these values based on the weight of each in a cup and then compare them all to yams which have the highest level of fiber of these four staples.
Calories
Potatoes have the lowest number of calories, 20% lower than yams. Barley has 6% more calories than yams while brown rice and corn have slightly lower amounts.
Protein
Corn is the protein leader with over twice as much as yams. Brown rice and barley have 1.7 and 1.5 times the protein as yams do while potatoes 1.4 times as much.
Total lipid (fat)
Corn has 9 times the fat of yams. Brown rice has just under 6.5 times and barley a little over 3 times as much fat as yams. Potatoes are on par with yams in terms of being a low fat food.
Carbohydrates
Potatoes are the low carb leader with 24% fewer carbs than yams followed by rice at 17% fewer carbs.. Corn is 9% lower and barley 2% higher.
Fiber
Yams lead the pack in fiber with twice as much as brown rice and potatoes, 25% more than corn and surprisingly, 3% more than barley which is touted as a great source of fiber.
In terms of a diabetic diet, issues of allergies aside, yams and barley are both good sources of fiber.
All these staples are very close in terms of calories.
While the carbohydrates vary, the variance is probably not all that significant.
Yams and potatoes are quite low in terms of fat with corn providing 9 times more, rice 6.5 and barley 3 times as much as yams. This is a two edged sword. Lipids are essential to all animals and a better source of energy for a diabetic than carbohydrates which quickly drive up BG's. There is an irony as far as lipids and triglycerides such that if lipids are too low, triglycerides will rise. Sometimes, the way to lower triglycerides is to raise the amount of lipids in the diet so high levels of lipids are not in themselves "bad" for a diabetic.
Plain old white potatoes with their skins boiled, without salt or butter are perhaps surprisingly not a bad diabetic food. They have a lower level of carbohydrates than any of these other staples. Almost no lipids. They are about the same as a yam as far as proteins. What they lack is fiber.
The USDA is in the process of updating its nutrient database to include details of sugars and starches which play a significant role in the glycemic impact of foods. A very important consideration with these foods is the mix of vitamins, minerals, amino acides and the types of fat they provide.
As with humans, probably the best approach is to vary the diet to include all of these foods, making adjustments for the large variations in protein and lipids that some provide by adjusting the amounts of other foods such as meats. This way, you ensure that your pet is getting a range of micronutrients in a form that is highly available to the body compared with supplements.
Thank You Ed for taking time to continue providing information for this website and helping making food preparation for owners of diabetic pets a little easier.
---

Deb's Recipe for Mork
Mork's recipe for good health
6 large boneless skinless chicken breast
8 cups of water
3 cups of brown rice
1 cup barley
1 cup oat bran a bit of regular oatmeal as a thickener if needed.
2 packages frozen chopped spinach
1 large can pumpkin
assorted veggies, celery for broth flavor, broccoli, carrots, green beans,any kind of squash will help the fibre content too In a 4 quart saucepan I start by boiling the chicken breast lightly in the 8
cups of water, enough to cook them but not boiled to death. Skim the fat, there shouldn't be much, I use a paper towel or if I use boned chicken will put it in the fridge overnight and pick off the cold fat. I was using an organic broth to flavor but found it had onions in it so am now making my
own broth by adding celery, grated carotts and a smidge of salt for flavor. Add the rice and barley and cook till soft, usually 30 to 45 minutes, while this is cooking I'll be chopping th chicken into small peices and any veges that I'm going to use, you can try different ones and use different things,
I've found Mork really likes change and gets bored with eating the same thing all the time. After the rice and barley are soft and well cooked add the oat bran and cook for five minutes, you'll need to keep a close eye at this point as it will burn and stick to the bottom of the pan. The mix should be nice and thick enough to form into balls, very sticky when warm and easier to handle once cooled off. If it's not thick enough add some oatmeal to thicken, the oatmeal only takes a couple of minutes to cook in.
Mork is 17 lbs and I form into ¾ cup balls and freeze, he gets one of these twice a day with a couple of teaspoons of cottage mixed in. He also gets 500 mg of Milk Thistle, 100 iu vitimin e,200 mcg chromium, 250 mcg vitimin b-12 , half a visorbits and Can-Addese which is a powder to help digestion. He gets all this twice a day with his meals. He also gets ¼ cup of dry food if his bg's are low, he's almost always high in the morning and low at night.
Mork has now gone to the Rainbow Bridge

Email Deb for more info on Mork's Diet

---

Julie Hise
Email: endoxazo@labpuppymail.com

Here is a tasty, high in fiber recipe that doesn't raise the blood glucose levels tremendously.
I call them Sam's Bran Balls.
3 cups Millers Bran
2 ounces cook and shredded
5-6 eggs (depending on how moist you want it)
Mix all ingredients together. Form 1 inch balls. Put on cookie sheet lined with foil. Sprinkle with garlic powder. Cook at 325 degrees for approx 25 minutes or until firm. Cool, store in plastic bag and freeze.

Yogurt Treats
1 large container of non-fat PLAIN yogurt.
2 ounces of cooked and shredded chicken (or cooked chicken liver).
Put in blender. Choose liquify. Blend well.
Pour in ice cube molds. Freeze overnight. Put in plastic bags.
My Samantha just loves 'em. I have found that her sugar does not seem to be affected when she eats these.

---

For those pets with congestive heart failure
Hill's Recipes for Homemade Diets
Canine Low Salt Diet
1/4 lb. ground round or other lean beef
2 cups cooked rice without salt
1 tablespoon vegetable oil
2 teaspoons dicalcium phospate
Balanced vitamin-mineral supplement in quantity sufficient to provide the daily requirement for each vitamin and trace mineral
Cook beef in skillet, stirring until lightly browned.
Add remaining ingredients and mix well.
keep covered in the refrigerator.
Yield 1 lb
Analysis
Protein 6.3%
Fat 5.5%
Carbohydrate 17.7%
Sodium .01%
Metabolizable Energy 66 kcal/lb
This diet contains approximately 50 mg sodium/100 gm dry diet.
Veterinary cardiologists recommend a ration containing not more than 50mg. sodium/100 gm dry diet for dogs with congestive heart failure.
Feeding Guide
Feed sufficient amount to maintain normal body weight
5 lb dog feed approximately 1/3 lb
10 lb dog feed approximately 1/2 lb
20 lb dog feed approximately 1 lb
40 lb dog feed approximately 1 and 3/4 lb
60 lb dog feed approximately 2 and 1/3 lb
80 lb dog feed approximately 2 and 3/4 lb
Feed only the low sodium diet. All snacks, tidbits and treats especially table food must be eliminated.
Vitamin and mineral supplements can be obtained from your veterinarian.
Never change your pet's diet without consulting your veterinarian

---

From Hill's Homemade Diets
Feline Restricted Protein Diets
1/4 lb. cooked liver
1 large egg, hard-cooked
2 cups cooked rice
1 tablespoon fat(bacon grease or vegetable oil)
1 teaspoon calcium carbonate
A balanced vitamin-mineral supplement in a quantity sufficient to provide the daily requirement for each vitamin and trace mineral.
Braise the meat, retaining fat.
Dice or grind liver and egg.
Combine all ingredients and mix well.
This mixture is somewhat dry and the palatability may be improved by adding some water(not milk)
Yield 1 and 1/4 lb.
Analysis
Moisture 70.0%
Protein 7.4%
Fat 5.3%
Carbohydrate 15.8%
Metabolize energy is 638 Kcal/lb
This diet supplies 21%protein calories, 34% fat calories and 45% carbohydrate calories
Feeding Guide
Feed sufficient amount to maintain normal body weight
5 lb. cat approximately 1/4 lb
7-8 lb. cat approximately 1/3 lb
10 lb cat approximately 2/3 lb

Vitamin and mineral supplements should be obtained from your veterinarian
Never change your pet's diet without consulting your veterinarian

---

Check Amazon to buy the book or your local book retailer
Price: $22.45 s&h fee $6.95
Natural Health Bible for Dogs and Cats; Prima Publishing, Roseville, CA
by Dr. Shawn Messonnier
Respected holistic veterinarian Messonnier cross-references the most common ailments among dogs and cats with their related therapies, and presents a balanced view of natural versus conventional treatments in this encyclopedic companion. Presents an A-Z guide for over 200 common illnesses and ailments as well as an A-Z guide to herbs, vitamins, and supplements.
Excerpts from the article on diabetes can be found at this url
Go and read the article it is very interesting.



A Natural Approach to Diabetes

Diet for Dogs with Diabetes
Note: Before you start to feed your dog or cat a home-prepared diet, it is strongly recommended that you discuss your decision with your veterinarian or a holistic veterinarian in your area. It is essential that you follow any diet's recommendations closely, including all ingredients and supplements. Failure to do so may result in serious health consequences for your pet.

1 1/4 cups oatmeal or rolled oats, cooked
3 1/2 ounces (1/4 cup) kidney beans
1 large hard-boiled egg
1 cup mixed vegetables, cooked and drained

This diet provides 452 kcal, 24.5 gm protein, 8.9 gm fat, and supports the daily caloric needs of a 12- to 13-pound dog.

Variations
1. Substitute 1/3 pound chicken or turkey breast and 2 cups of potato cooked with the skin on for the rolled oats and the kidney beans. If this substitution is made, also add 30 gm (1 ounce) of wheat bran to the diet.
2. Add 1 1/2 to 2 bonemeal tablets (10-grain or equivalent) or 1/2 teaspoon of bonemeal powder to supply calcium and phosphorus with a multivitamin/mineral supplement, using the label instructions. Alternatively, use a natural product from Standard Process (1 Calcifood Wafer or 2 Calcium Lactate tablets for each 2 bonemeal tablets).
3. When possible, use natural vitamins made from raw whole foods, rather than synthetic vitamins (although both can he used in combination), as the natural vitamins also supply plant phytochemicals, enzymes and other nutrients not found in chemically-synthesized vitamins.
4. Use either Catalyn from Standard Process (at a dose of 1 Catalyn per 25 pounds) or Canine Plus from VeteriScience (following label dosages) as the natural vitamin in this recipe.

Diet for Cats with Diabetes
Most doctors also recommend similar diets for diabetic cats. However, cats are true carnivores and require meat in their diets. Therefore, the diet that may prove most helpful for diabetic cats uses the maintenance diet with added fiber. However, keep in mind that cats will usually not accept diets high in fiber.

1/3 to 1/2 pound of ground meat (turkey, chicken, lamb, beef)
1/2 to 1 large hard-boiled egg
1/2 ounce of clams chopped in juice
4 teaspoons chicken fat or canola oil
1/8 teaspoon potassium chloride (salt substitute)
100 mg taurine

If using 1/2 pound of chicken and 1/2 egg, the diet will provide 471 kcal, 53.1 gm of protein, and 27.4 gm of fat. An adult indoor 10-ponnd cat requires approximately 300 kcal of energy per day, an adult outdoor 10-pound cat requires approximately 360 kcal of energy per day, and a 5- pound kitten requires approximately 300 kcal of energy per day.

Variations
1. Substitute tuna (4 ounces in water without salt), sardines (4 to 6 ounces in tomato sauce), or other fish (such as 5 ounces of salmon) for the meat protein. For occasional variety, substitute 1/2 to 2/3 cup of tofu. Since cats are true carnivores, most doctors prefer to recommend tofu on only an occasional basis.
2. Add 1/3 cup of potato (cooked with the skin), rice, or macaroni, although cats do not have a defined dietary requirement for carbohydrates.
3. Supply vitamins and minerals as follows: 3 to 4 bonemeal tablets (10-grain or equivalent) or 3/4 to 1 teaspoon of bonemeal powder to supply calcium and phosphorus with a multivitamin/mineral supplement, using the label instructions. Alternatively, use a natural product from Standard Process (1 Calcifood Wafer or 2 Calcium Lactate tablets for each 2 bonemeal tablets).
4. When possible, add natural vitamins made from raw whole foods, rather than synthetic vitamins (although both can he used in combination), as the natural vitamins also supply plant phytochemicals, enzymes, and other nutrients not found in chemically synthesized vitamins. Use either Catalyn from Standard Process (at a dose of 1 Catalyn per 10 pounds) or NuCat from VetriScience (following label dosages) as the natural vitamin in this recipe.
5. For extra nutrition and variety, use fresh, raw or slightly steamed vegetables, such as carrots or broccoli (approximately 1/2 to 1 cup per recipe) as a top dressing for the diet. (Many cats, however, will not eat vegetables.) Most vegetables provide approximately 25 kcal per 1/2 cup.
6. The nutrient composition of the diet will vary depending upon which ingredients are used. The actual amount to feed will vary based upon the pet's weight (feed less if weight gain, more if weight loss).
7. Extra fiber can be added by supplementing with kidney beans (1/8 cup), oatmeal (1/4 cup), wheat bran (1/4 ounce), pumpkin or squashes, and sugar-free fiber products such as Metamucil.

---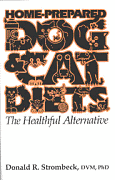 Read Shari's Review on this book
Home-Prepared Dog & Cat Diets | the Healthful Alternative
by Donald R. Strombeck
Amazon Price: $37.95
High-Fiber, High-Carbohydrate, and Low-Fat Diet (for 12-13 lb dog)
1 1/4 cups oatmeal or rolled oats, cooked
3 1/2 oz (1/4 cup) kidney beans, canned
1 egg, large, hard-boiled
1 cup mixed vegetables, cooked and drained
1 1/2 calcium carbonate tablets (600 milligrams calcium)
1 multiple vitamin-mineral tablet