.
What could be sweeter then a diabetic pet?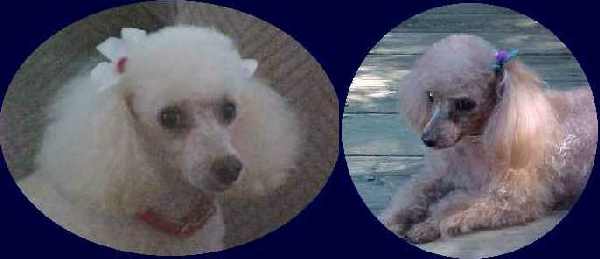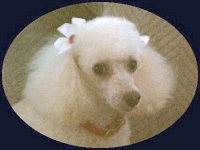 Sweet Gigi went to the Rainbow Bridge on January 10, 2007



Hi, I am Katherine, Gigi and Abbey's human mom. Gigi is going to tell our story,
but first I want to thank all of the moms', dads', doctors', friends' and especially those
precious furbabies for all the love and help you have given our family. I have learned
that through all trials, good will come if you just look in the right place. I have been blessed
with two precious fur babies that have taught me so much about life and through them,
I have met so many loving people. So this is a wonderful, happy, story...........
Woof.... I am Gigi the cream miniature poodle in the picture above.
Abbey is the red toy poodle in the picture above.
Since I am the oldest, I will tell our story.......
About eight years ago, I first met my human mom, Katherine when she was going
through a sad time. My doggie mom, four brothers and sisters, and I lived with a very nice lady,
Renae, that bred poodles. Katherine came to our house because she was looking for a puppy
to buy. She was very sad and I wanted to go live with her and cheer her up.
I liked her a lot.... but, she left all alone.
A few days later she came back to Renae's house. Boy, was I glad to see her.
Renae liked her a lot too and vice versa. Nobody else knew it, but I saw that that was
the beginning of a beautiful friendship. I am good at sensing things like that.
Well, this time I put on an extra special show for Katherine. Then, I just sat in front of her
and just looked at her and sent heart waves of love and compassion and the best
"take me home" look I could give. You know what? Katherine picked me up and
that was all she wrote......I had a new mommy.
I was so happy because I knew this was what I wanted too.
(As I said I am good at seeing things like that)
We went to her house and the very first night I slept right next to her. I knew she needed
someone to look after her and she knew that I needed someone to look after me too. So,
I did my job and cheered her up and she did her job and fed me and cleaned me and taught me
things like games AND where the bathroom was. We were very happy together.
Then we started visiting Renae at her house. We would spend the weekend because
Renae lived far away. That was cool because I got to see my doggie mom and show her
how pretty and smart I was becoming. Also, I told her how happy I was.
Renae taught Katherine how to cut my hair and make me beautiful like
my doggie mom. Katherine helped Renae take care of all the new little puppies.
Well, one day, this tiny little red puppy was born and had a hard time staying strong.
She was so little and sleepy that she would forget to eat. She got so weak that she almost died.
Then things changed. You know what? Katherine started feeding that little red puppy.
The puppy got stronger and started drinking milk from her doggie mom.
Every weekend we would go see that little red puppy to check on her. She was always shy
and the other puppies picked on her. Well, being the excellent caretaker that I had become
and being that I was grown by then, I thought to myself....Hmmmmm.....she needs a big sister to
watch after her....and a nice human mom to take care of her too. I had to try to communicate
this to Katherine. That wasn't too hard cause she was thinking the same thing.
When the little red puppy was old enough to live on it's own, we took her home with us
and named her Abbey. Oh boy, I had a little puppy to look after. I was good at that. I taught
her where to sleep, where the food was, how to play games AND where the bathroom was.
I was a big help to Katherine. I even gave her mommy puppy baths all the
time by licking her and keeping her nice and clean.
Well, the years passed and we had become a happy family.
Even my human mom,Katherine, got over her sadness and started smiling all the time.
And you know what? Katherine had become so happy that she started taking care of
other poodles. Their mommies would bring them to her to give them a bath and then
cut their hair. I made lots of friends, but I always watched out for Abbey and Katherine.
Then people started calling Katherine when they heard of a poodle that needed a home
because their other mommies couldn't take care of them anymore. So, of course,
we would go get them and take care of them. Some were sick and Katherine would
help them get well again. Some were dirty and Katherine would cut their hair and make them
pretty again. Some were scared, or sad, or angry and we would teach them about love.
Then sometimes, people who wanted a little dog would come to visit us. If one of the poodles
liked the people and Katherine liked the people (AND of course they had to pass the
"Gigi/Abbey" test.), then that little poodle would go home with those people. We would see
them every six weeks when they came to get their haircut. They would tell us how happy they
were. We were overjoyed to hear those nice stories and we made even more friends.
Then, one day, mommy noticed that Abbey didn't look good. She looked sad, tired, skinny,
and her hair was coming out. We took her to the doctor and they told Katherine
that she had diabetes. They were very nice to Abbey and taught mom about special food that we
could purchase or make from a recipe that they gave us. They also taught mom about
giving Abbey insulin shots. They explained that used together, the food and insulin
would help Abbey to get healthier and act happy again.
Then it dawned on me that I might have diabetes too. I just couldn't get enough to
eat or drink. AND I couldn't get to the bathroom in time and so I started having accidents.
I was so ashamed at myself. Katherine had learned about the signs of diabetes, so she took
me to the doctor to be checked. The doctor confirmed that I had diabetes too.
Katherine thought she had done something to cause us to get diabetes or that it was
contageous. The doctor told her "No" to both questions. We don't know where it came from
but I am glad Katherine is our mom. She looked up diabetes on the internet and found this
"www.petdiabetes.com website" and met so many nice, knowledgeable, helpful people.
Katherine was really afraid
at first that she would hurt us or that we would go blind or that we would die from not
enough food or too much insulin. Everybody gave her compassion, encouragement,
support and knowledge as they shared their experiences.
I started feeling so much better. No more accidents on the floor.
Abbey gained her weight back, is getting her hair back, is not so tired anymore
and is much happier. Katherine became less afraid of giving us shots. She has learned
from the email list how to test the blood for sugar levels so we stay in a healthy range
or she has learned what to do to get us there. She even started cooking and
making our own food!!! Mmmmmmmmmmmmm! We get to eat this yummy food,
feel better, and stay fit and beautiful on the outside as well as the inside.
All those little pricks and sticks are nothing compared to how happy we all are now.
Even our doctor is happy. She calls and asks my mom questions and says
that we are doing just fine. And you know what? WE ARE!
To Read More Diabetic Pet Stories - Click Here!